Jumping Gems
Learn from children
I learned a lot yesterday. My daughter, Kasey, and I took her children … my grandchildren … on an outing. We went to one of those places full of giant inflatables. Kasey has three gorgeous children. Kenzley (far left) will be nine in a few days and she brought her friend, Sam (blue shirt). Maddox is three and Blair just turned six months. (You may recognize them because I use them in my social media memes and many of my course videos!!)
Learn from children
What did I learn? Well one thing is that I really miss being in a classroom. Having dozens of children running in every direction is the nightmare of most normal people. I love it!! Most of them were so funny and cute and full of energy. I wanted to know them, to chat with them and listen to them. Anytime someone fell, it was everything I could do not to rush over and comfort them. When the bigger boys were being too rough, Kasey had to remind me several times that I didn't work there and shouldn't say anything. I couldn't help but think of a few things I thought could have been arranged "better" in the toddler area. Not my classroom … not my business!
Learn from children
What else did I learn? Those big boys that were being too rough asked my eight-year-old granddaughter for her phone number!! Wow! She came straight to me and told me that they were following her, so I talked to her about how to handle it with great emphasis on NOT giving any personal information. When they sat at the top of the huge slide and wouldn't let her go down, I didn't go up the slide and put them in a head lock! I calmly went to a worker and explained the problem. The workers were on top of it and the parents waved their hands in the air and said, "oh they are just playing". So, I learned that even though I've been out of the classroom for a year, parents are still excusing their children's bad behavior.
Learn from children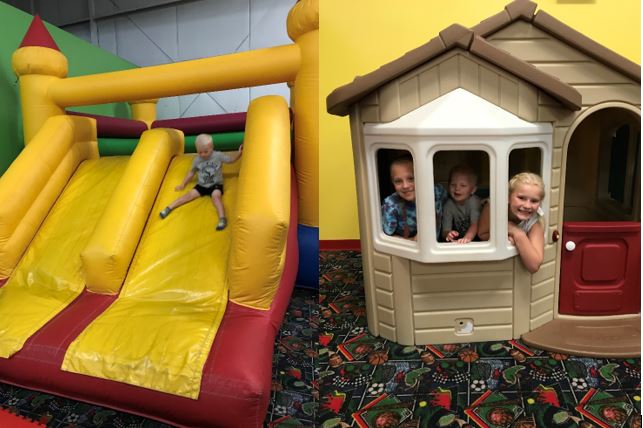 The most important thing I learned was that children everywhere are still out there. They are running and playing and learning and … sometimes … misbehaving. Children are such amazing little beings. Being around them is so much fun and energizes me like nothing else. They love fiercely, play full on and are absolutely beautiful and pure and transparent in everything they do. They deserve our very best. I want, as a trainer, to do everything in my power to add to the knowledge and skill set of teachers so that they can add to the lives of these amazing little people and help them grow and learn and flourish.
Learn from children