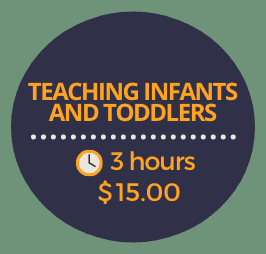 Teaching Infants and Toddlers
If you are employed in a state that uses a registry to track professional development hours, you will be able to provide your registry ID (Stars, MOPID, Registry or other ECE ID#) after you have completed the quiz for the course. If you pass the quiz we will report your course completion to the state registry using the registry ID that you provide.
Teaching Infants and Toddlers is a course about the day to day responsibilities of the infant and toddler teacher. The basics of feeding, diapering and nap time will help a new teacher learn safe and age appropriate practices and the many suggested activities will help the more experienced teacher with new ideas. Sensory activities and art projects are suggested and described. Methods for incorporating language development in the day to day routine are presented. There are also multiple suggestions for developmentally appropriate books that the children will enjoy and learn from. Course length  – 3.0 hours.
This course answers the following questions:
How should I handle paperwork and record keeping?

What are some good ways to organize and label all of the children's belongings?

What are the best steps for diapering?

What should I consider when deciding on safe sleep practices?

How long is it safe to swaddle?

Why is tummy time important and how should it be done?

When should table food be introduced and what about choking hazards?

When and how should I start teaching them language?

What is "primary caregiver" and should I do it?

What activities can I do with infants and toddlers?

Can I really do art with infants?
Participants who successfully complete this course will:
Understand safe practices for feeding and diapering infants and toddlers.

Understand safe sleep practices for infants and toddlers.

Develop plans for classroom activities with infants and toddlers.
Proceed To Shopping Cart