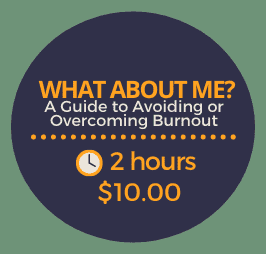 What About Me? A Guide to Avoiding or Overcoming Burnout
If you are employed in a state that uses a registry to track professional development hours, you will be able to provide your registry ID (Stars, MOPID, Registry or other ECE ID#) after you have completed the quiz for the course. If you pass the quiz we will report your course completion to the state registry using the registry ID that you provide.
This course defines, in detail, what burnout is. There are many common symptoms. Some people have one, some have a few and some have them all! We will discuss what to do if you are have symptoms and feel that you are starting to experience burnout, in the depths of burnout or just thinking ahead and trying to avoid burnout. There is also information for helping others with their burnout symptoms. Course length  – 2.0 hours.
The course answers the following questions:
What is burnout?

What are the symptoms of burnout?

What should I do if I think I have burnout?

What should I do if burnout is just beginning to be a problem?

How can I help my coworkers with burnout?
The expected outcomes upon successful completion of this course are:
Participants will understand what burnout is.

Participants will obtain the skills to avoid burnout.

Participants that already have burnout symptoms will obtain the skills to survive and reignite their fire!
Proceed To Shopping Cart